Training
We are registered with the CITB, the governing body for the Government's Construction Industry Training Programme, and are active members of the Cornwall Construction Training Group. In conjunction with these two groups, we have an on-going training programme to help secure the long term success of our employee skills and training requirements, and the continued success of our business.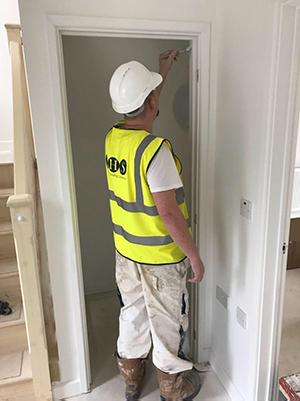 Training includes health and safety courses and tests, NVQ achievements, Site Management, and our Apprenticeship Programme.
Spraying Academy
Our paint spraying academy is the only facility in the southwest, offering in-house training to our own employees and external companies. Course content includes:
Health and safety.
Knowledge of tools and equipment.
Preparation and masking.
Mastering spraying techniques.
Cleaning tools and equipment.
Environmental factors.
Staff Accreditation
We take the health and safety of our employees and other stakeholders very seriously. All of our employees complete the Site Safety Plus health and safety training course (SSP) as a minimum. Site Supervisors complete the Site Supervisor Safety Training Scheme (SSSTS), and Site Managers complete the Site Management Safety Training Scheme (SMSTS).
Apprentices
Ensuring the future is important to us all. At IHS we work to make this happen by regularly taking on and training Apprentices, and teaching them our work methods and ethics. Each year we take on several new Apprentices, with a view to offering them full-time employment after successfully completing their training.
An Apprenticeship enables those coming into the trade to gain NVQ and Diploma Level 2 whilst earning a wage. The Apprenticeship is completed over 2 years on a day release basis (1-day per week to attend college).
We work closely with Cornwall College and the CITB to recruit and train individuals. In 2015 we were extremely proud that our Apprentice won the Cornwall Construction Group Award for Painter and Decorator Apprentice of the Year, and also the overall Apprentice of the Year against all other Apprentice categories! We have also been nominated for Apprentice Employer of the Year.
If you are interested in an apprenticeship with IHS Decorators please contact us to find out more.